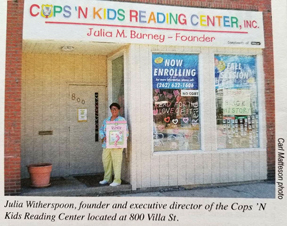 The Cops 'N Kids Reading Center was founded in 1997 in Racine, Wisconsin. There are now over 115 Cops 'N Kids Reading Centers throughout the United States as well as Australia, South Africa, Venezuela, and the Philippines.

www.quotainternational.org
In 1997, then police officer, Julia Burney, responded to a burglary call that led her to a warehouse full of children's books. Without hesitation, Julia realized these books should be in the hands, hearts and homes of the disadvantaged children she served every day.

The first cachet of books was distributed from the trunks of police cars. Within weeks, children were clamoring around officers who often stopped to read a colorful book or two. What Julia discovered, was a unique way to respond to children in need; children who lacked the essential tools for successful learning.

Cops 'N Kids assembles community members to share the responsibility of social and educational development, ensuring that all children have the opportunity to explore their full potential.

This simple and effective plan grew into the Cops 'N Kids Reading Center.