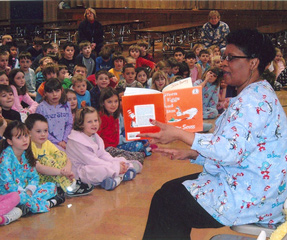 Founder & Executive Director
Cops 'N Kids Reading Center, Inc.

Julia possesses a sincere positive spirit of community. She has gone about her daily tasks touching many lives in the City of Racine and has brought about exemplary changes in the lives of individuals and the community as a whole.

Julia was employed by Racine Unified School District as a Teacher's Assistant and Home/School Worker. She also worked eight years at Goodwill Industries Future Bound Program as Case Manager for disadvantaged youth, eventually becoming program supervisor.

In 1979, Julia started working for the City of Racine as a clerk in the Police Department, and became a police officer five years later. For 17 years she served her community, dedicated to changing the general perception of Police Officers in the eye of the public. She has spent a great deal of time trying to establish closer relationships between law enforcement officers and citizens, especially children.

Children are Julia's main focus. Knowing the importance of reading and its benefits, Julia founded the Cops 'N Kids Reading Center, Inc. The Cops 'N Kids Reading Center, Inc. provides free books to all children. Tutoring is provided to all enrolled children, particularly, families who more than likely do not have constructive/educational reading material in the home. She believes we can make progress by nurturing positive experiences in the lives of children.
Outstanding Accomplishments:
Young Author's Recipient Award
Natalie's Everyday Heros
Victorious Women's Outreach Appreciation Award
Featured in "Today's Black Woman" Magazine
Featured in "A Distinctive Style" Magazine
ABC World News Tonight's "Person of the Year" with Charles Gibson
Featured in Story on "Oprah's Angel Network"
"Special Recognition" from Racine County Executive, William McReynolds
ABC World News Tonight's - "Person of the Week" with Charles Gibson
Modern Woodman's "Hometown Hero" Award
Received "Women Putting Their Stamp on Metro Milwaukee" Award - USPS
Milwaukee McDonalds Co-Op "Now that's Black History" Community Leadership Award
FBI Director's "Community Leadership" Award
Received Racine's First "ATHENA" Award - Racine YWCA
Received Wisconsin State Assembly "Home Town Hero" Award
Featured in Parenting Magazine - "Parenting Leader" Award
Featured in People Magazine - "Hero's Among Us Award"
Featured in "Women's World Magazine"
Featured in "Reader's Digest"
Featured in "People Magazine"
"Olympic Torch Bearer" for the Winter Olympics
"Sons of the Revolution" Award
Six "Exemplary Officer" Awards
Wisconsin Association of Women Police - "Officer of the Year"
Wisconsin Professional Police Association - "Officer of the Year"
Optimist International Racine-(Wed.) Optimist - "Law Enforcement" Award
General Federation of Women's Clubs - "Theodora Youmans - Citizenship Award"
"Friends of Education" Award - Racine Administrators Association0
Featured in International Reading Association "Reading Today" Magazine
Featured on the Oprah Show-Recipient of the "Use Your Life" Award ($100,000)
Featured on NBC's "Today Show"
Featured in Court TV's "Badge of Courage" TV Special
Featured in "Parade Magazine"
International Association of Chiefs of Police "Officer of the Year" - Honorable Mention
Wisconsin State Reading Association's - "Celebrate Literacy Award" Recipient
Fourth of July "Parade Marshall"
"Woman of the Year" - UW-Parkside
NAACP - "Youth Advocate Award"
"Paul Harris Stellar Award" - Racine Rotary - Downtown
The Martin Luther King "Freedom Bell Award"
Attorney General James E. Doyle's - State of Wisconsin "Officer of the Year" Award
Five "Excellent Police Duty" Awards
YWCA "Woman of Distinction in Human Services"
WITI-TV6 "Jefferson Award" Nominee
"Outstanding Young Law Enforcement Officer" - Racine Jaycees