NEW Margaret Drysdale Reading Program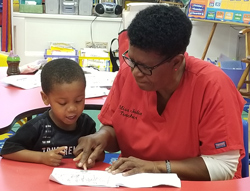 Julia Witherspoon, teacher
The Cops 'N Kids Reading Program is staffed by both current and retired Racine Unified teachers and many caring, capable volunteers. Our goal is to provide a positive learning environment for the children who attend.

Our classroom activities stress reading/language skills along with listening, completing assigned tasks, transitioning, cooperating, making nutritional food choices, and attending on a regular basis. It is our goal to have the children transfer these important life skills to home, respecting yourself and each other, school and community activities.

The classroom curriculum is also enhanced by community resources.
Community Police Officers visit each group of children to read a book and engage children in conversation.

The Professional Women's Network for Service shares a book and activities related to the book with the three, four and five year olds. Each month a new book is presented to the children. Children are then given the book shared along with additional activities for home use. Parents are encouraged to attend the presentations.

Racine Art Guild on the Road presents an art experience for each session twice a year.

Several volunteers throughout the year focus on the arts: visual, musical and literary. Their presentations encourage children to engage in creative movement, creative use of art media and creative writing activities.