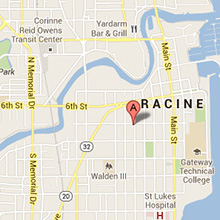 View Larger Map
Visit Us!
MISSION STATEMENT:
It is the mission of Cops 'N Kids Reading Center to enable and empower all children to strive toward the fundamental successes in life - through recognition for the importance of reading.
Green Bay Packer LeRoy Butler surprises student
Cops 'N Kids Reading Center (Racine) - Julia M. Witherspoon reading @ RUSD Roosevelt School 2017/03/31


2017-18 School Year Registration


---

We are now accepting applications for the 2017-18 school year. Our program starts Sept. 18, 2017. Our schedule follows R.U.S.D. If they have school, we have school. If they are off, we are off.
Fall, Winter and Spring Hours of Operation:
4:00 - 6:00 p.m.
Attendance Days by Age Group:
Monday - 3, 4 and 5 years by September 1st (& Potty trained)
Tuesday - First and Second Grade
Wednesday - Third and Fourth Grade
Thursday - Fifth and Sixth Grade


Click Here to Download an Enrollment Form in MS Word.
Click Here to Download an Enrollment Form pdf.

Adult Book Giveaway
Cook Books, Religious Books, Reference & Encyclopedias
Please Help Us Recycle & Keep Them Out of Landfills.
Invite your friends & feel free to share to your Facebook page.

---

Saturday, October 7th & 14th, 2017
CNK Warehouse
1509 High Street, Racine
10am - 12pm

Click Here for a pdf flyer.

Click Here for a Word.doc flyer.

15th Annual Book Giveaway





---

Saturday, December 23rd, 2017
Festival Hall
5 Fifth Street, Racine WI
9am - 11am

Click Here for a pdf flyer.

Click Here for a Word.docx flyer.



This event is for children --- All adults must be accompanied by a child. Children can choose their favorite books FREE. Strollers, wagons, etc. may not be used to carry books out. Bags will be provided. Gift wrapping is available courtesy of Junior League of Racine.

Santa will be there & Safe Assured ID courtesy of Volunteer Center of Racine. Special guests may include the Racine Police Department, K9's, the Racine County Sheriff's Office and many other Law Enforcement Officers from surrounding SE WI agencies including the FBI and Racine/South Shore Fire Departments to autograph your books if you like. Stop by and chat with them.

Here are photos from the previous Annual Book Giveaway. Click on photo for larger view.
More CNK Events

Click on photo for larger view.




---

Racine's own NBA Player, Caron Butler reading to children at CNK with Miss Julia

CNK Community Garden program

Former Green Bay Packer Wide Receiver, Donald Driver reading to children at CNK

Miss Julia reading to the children at CNK

Chief Art Howell w/LeRoy Butler IV
Julia Witherspoon
Mayor John Dickert
Home | Events | Community | Curriculum | Donate | Volunteer | History | Founder | Contact Us